GPX 5000 / 4800 Supergoldetektor
Minelab`s Meilenstein zur nächsten Generation
von Super – Gold ,-und Tiefendetektoren!
Niemals zuvor entwickelte Minelab einen solchen multifunktionellen,
leistungsstarken, leichtbedienbaren und effizienten, ultimativen Gold-,
und Tiefendetektor wie diesen. Mit der besten Tiefenleistung !
Erreichen Sie neue – gigantische Tiefen... Nichts geht tiefer...
der wahrscheinlich stärkste Detektor der Welt - mit DVT Technologie
Tiefe Schätze, Gold und antike Relikte sind sein Tribut an Sie...
<![if !vml]>
<![endif]>
Normale VLF Detektoren haben nur eine begrenzte Reichweite und Eindringtiefe in mineralisierten
Böden ( siehe Tiefenvergleich )!
Wieder verbesserte Minelab Ihre multifunktionellen,leistungsstarken,
leichtbedienbaren und effizienten Gold und Tiefendetektoren.
Mit der stärksten Tiefenleistung seit je her!
Die Weiterentwicklung des GPX 4500.
<![if !vml]>
<![endif]>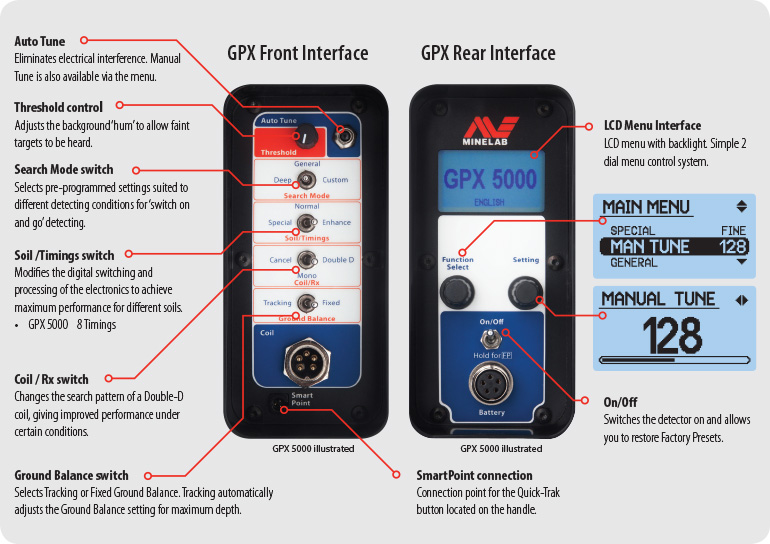 Ein völlig neuartiges digitales Elektronisches Steuersystem erlaubt es dem Benutzer den GPX
5000 für alle Suchbedürfnisse optimal zu tunen. Vorgefertigte Suchprogramme optimieren die
Suche auch unter schwierigsten Bedingungen, ob bei der Schatz oder Goldsuche im Allgemeinen,
unter speziellen Anforderungen oder einfach nur beim Absuchen eines Gebietes.
Der Zugriff auf eine Reihe von verschiedensten Funktionen und Einstellungen erlaubt es dem
Benutzer, seine eigenen Einstellungen vorzunehmen und diese auch zu speichern. Damit kann
jeder den bestmöglichen Erfolg und das tiefste Ergebnis erzielen.
Einfach gesagt, in der Minelab Sprache: "Minelab produziert die besten Golddetektoren der Welt!"
Neue Eigenschaften des GPX 5000:
Neue DVT , MPS und SETA Technologie mit LCD Funktionsdisplay

Voreingestellte Suchmodi ( Patch, General,Deep, Enhanced etc.)

Stärkere Gain Funktion für ultimative Suchtiefe

Neue Sensitive Optionen

Bodenanpassungsmodi mit 6 Suchmodi

Neue Modi und Timings

FineGold Modus

Salz / Gold Modus

Coin / Relic Modus

Wiedergabeauswahl

Motionmodus ( regelt die Bewegungsgeschwindigkeit)

Volumenlimit

Neues Litium Ionen Batteriesystem

Besserer Tragegürtel und Rucksack
<![if !vml]>
<![endif]> <![if !vml]>
<![endif]> <![if !vml]>
<![endif]>
Der GPX 5000 arbeitet mit der bekannten von Minelab patentierten DVT ( Dual Volt ) und MPS
Technologie. Zwei verschiedene Stromstärken, die zusätzlich an eine Dual-Pulsinduktion-
Transmitter Frequenz gekoppelt sind, verhelfen dem GPX 5000 zu unglaublichen, bisher nicht
vergleichbaren Eindringtiefen. Die stärkste Leistung wird auf Gold, bzw. Naturgold erreicht und
besonders auf stark mineralisierten und salzigen Böden.
Aber auch für zentraleuropäische Verhältnisse ist der GPX 5000, genau wie der GP 4500, bestens
geeignet. Antike Objekte, Bronzen, Gold ,- oder Silbermünzen aus tiefen Erdschichten sind hier
sein Tribut an den Profi Schatzsucher. Profis schwören schon seit langem auf die GP Serie.
Selbst augenscheinlich abgesuchte Fundplätze (z.B. antike Siedlungen, Burganlagen, Ringwälle )
bringen nicht nur dem erfahrenem Sucher erstaunliche Erfolge in kurzer Zeit. Dies bestätigen immer
wieder Fundberichte von zufriedenen Kunden, aus aller Welt. Ob römisch oder keltische Siedlungen,
der GPX kommt bis auf die Fundamente und kann sogar bis auf die Tiefe von antiken Bestattungen
vordringen.
Der GP 5000 arbeitet mit automatischer und manueller Frequenzsuche, für die optimale Leistung.
Durch Feintuning kann er optimal eingestellt werden.
Er besitzt einen Allmetall und Diskriminations Modus, sowie eine spezielle Bodenanpassung für
einfache und schwierige Bodenverhältnisse. Die Boden Balance ist entweder automatisch oder
manuell einstellbar.
Der Eisenfiltergrad kann jetzt auf einer Skala eingestellt werden.
Für starke Interferenzen gibt es eine Extra Rauschunterdrückungs- Funktion. Außerdem verfügt
der GPX 5000 noch über einen Tonsignalverstärker und eine Volumen- und Signalkontrolle.
Ebenso besitzt der GP 4500 einen Smart Point für die optimale Einstellung. Dieser Smart Point ist
nun steuerbar mit einem grünem Schalter am Haltegriff. (Hier kann man z.B. die Geschwindigkeit
regeln)
Ausgestattet ist er zusätzlich mit einem Lithium Ionen Akku, KFZ Ladegerät und den hochwertigen
Koss Kopfhörern.
Eine weitere revolutionäre Neuheit ist die Umschaltung auf zwei verschiedene Spulenmuster, z.B.
Double D auf Monoloop Spule. Ein Spulenwechsel erübrigt sich so.
Im Tiefenvergleich zeigt der GPX mindestens dreimal soviel Eindringtiefe auf Kleinteile und auch
große Goldteile als ein VLF Detektor!
In stark mineralisierten Böden, jedem VLF - Golddetektor weit überlegen!
Hier ist die Eindringtiefe( mineralisierte Böden) eines VLF Detektors fast null. Der GP ist hier um ein
vielfaches überlegen!
In dieser Grafik vergleicht Minelab einen Conventional - VLF Golddetektor, wie z.B. einen Eureka Gold oder einen Goldbug II mit der Leistung eines Minelab GP Extreme in stark mineralisierten Böden!
More new features and functions make the GPX 5000 the best gold detector in the world!
The GPX 5000 sets the new benchmark in gold detecting technology. With an amazing range of features and functions the GPX 5000 is not only superior to its predecessor, the GPX-4500, and is in a class of its own. Featuring Minelab's exclusive technologies, Multi Period Sensing (MPS), Dual Voltage Technology (DVT) and Smart Electronic Timing Alignment (SETA), the high performance GPX 5000 is capable of finding more gold than ever before. From sub-gram nuggets to the elusive 'retirement nugget' and everything in between, with the GPX 5000, you can find it.

New improved electronics, new Soil/Timings and an amazing range of features combined with the legendary GPX ability to 'see through ground' mineralisation, gives you a significant Depth Advantage over other detectors.

Using unique features, functions and industry leading patented technology ensure the GPX detectors run smooth and quiet in even the most severe ground conditions, whilst still maintaining excellent depth and sensitivity to gold nuggets. Serious detectorists know that GPX detectors find gold much deeper than ANY other detector, in ALL ground conditions. That's why we are confident to say we have the GPX Depth Advantage.

With more Timings than ever before, the 8 Timings available on the GPX 5000 change the digital switching and processing of the electronics in the detector. Each Timing has been designed for optimum performance under certain conditions, so it is like having a different detector each time you select a new Timing.

Also great for the specialist relic and jewellery hunter who demands the best, and wants to recover targets deeper than ever before.

Easy for the beginner through to the professional - you can switch on and go with six factory preset Search Modes and automatic functions.

When searching for gold you need the best. If you're looking for the very best gold detector - LOOK NO FURTHER.
Features:
MPS, DVT & SETA Technology delivers to you the most technologically advanced detector yet, making small hard to hear nuggets more obvious.
New Timings make the GPX 5000 the most versatile ever. It's like having 8 detectors in 1. In addition to five of the Timings found on the previous model the GPX 5000 introduces three new Timings: Coin/Relic, Salt/Gold and Fine Gold.
Fine Gold Timing gives even more depth and sensitivity than Enhance — bring home more nuggets even from ground thought to be completely worked out!
Salt/Gold Timing is great for all nugget sizes in salty ground — outstanding at the beach!
Coin/Relic Timing is the deepest ever for benign ground conditions.
Improved Enhance Timing for more depth
Improved electronics for increased target sensitivity and ground balance performance
Six preset Search Modes gives you easy switch on and go detecting. In addition to General and Deep search are: Hi-Mineral, Patch, Hi-Trash and Pinpoint. All six Search Modes can be modified to your personal favourite settings. Menu accessible Search Modes can also be renamed.
Increased Rx Gain adjustment allows you more precise sensitivity control for optimum performance.
Automatic Ground balance options make it easy to adjust the detector to suit all ground conditions. e.g. (Fixed, Tracking, Tracking speed, Ground Balance Type, Quick-Trac button).
Audio adjustments to maximize target signals for your personal hearing ability e.g. (Threshold, Tone, Audio Type, Signal Peak, Response, Target Volume, Volume limit, Stabilizer).
Iron Reject adjustable to suit the iron trash level where you are detecting.
Motion control, adjustable to match your sweep speed and optimise target responses.
Tune (also known as Noise Cancel) - Automatic and Manual options to minimize electrical interference.
Backlight so that you can read the LCD menu in any light, allowing you to detect day or night. The back light also has an adjustable timeout to help preserve battery power.
Lightweight Li-ion Battery with inbuilt Speaker Booster capability
Two coils as standard: 11" Double-D coil plus 11" Monoloop coil giving you added versatility and value.
Languages: English, Spanish, Russian & Arabic (manual only)
The GPX Series has created new "gold rushes" around the world as these detectors find gold much deeper than ANY other detector, in ALL ground conditions.

The GPX 5000 is the most advanced gold prospecting detector and sets a new benchmark in gold detecting technology.

The state-of-the-art technologies and an incredible eight Soil / Timings (Timings) enable this high performance detector to 'see through' even the toughest ground to find gold of any size at unbelievable depths.

Besides the patented MPS, DVT and SETA technologies and legendary GPX ability, this unbeatable detector also features 6 preset search modes, a Boost Audio function and comes with two coils as standard to guarantee successful prospecting.

Product Features

The GPX 5000 has all of the features and functions of the GPX 4800 as standard plus additional functionality providing:

Superior GOLD prospecting performance
8 Soil/Timings is like having 8 detectors in 1, find more gold in ALL ground conditions
Fine Gold Timing gives even more depth and sensitivity than Enhance — bring home more nuggets even from ground thought to be completely worked out!
Salt/Gold Timing improved performance on both large and small nuggets in salty mineralised ground
6 factory preset Search Modes for 'switch on and go' simplicity for everyone
Increased Rx Gain adjustment allowing more precise sensitivity control and better performance
2 coils: 11-inch Double-D coil plus 11-inch Monoloop coil as standard
Increased Stablizer adjustment level
Improved target response settings
Quick Start Guide and Decal Overlay are available
Use Commander Coils to Get the Best Performance from Your GPX
Minelab Commander coils have been designed by Minelab's team of scientists and engineers for optimum performance and to meet the precise requirements of MPS technology.
(All Commander coils are compatible with the complete range of SD, GP and GPX detectors.)
15 x 12-inch Monoloop

15 x 12-inch Double-D

10 x 5-inch Double-D

Small shallow nuggets

★

★

★★

★

★★★★

★★★

★★★

★★★★★

Large deep

nuggets

★★★★★

★★★★

★★★★

★★★

★★★

★★

★★

★

Best ground coverage

★★★★

★★★★

★★★

★★★

★★

★★

★

★

Tight spaces

★

★

★★

★★

★★★

★★★

★★★★

★★★★

Less

mineralised

★★★★★

★★★★

★★★★★

★★★★

★★★★★

★★★★

★★★★

★★★★★

Highly mineralised

★★★★

★★★★★

★★★★

★★★★★

★★★★

★★★★★

★★★★★

★★★★

Iron

discrimination

—

✔

—

✔

—

✔

✔

—
Water resistant*

✔

✔

✔

✔

✔

✔

✔

✔
* Water resistant is defined as: can be splashed, washed, used in drizzling rain, or moved through wet grass. But must not be submersed under water.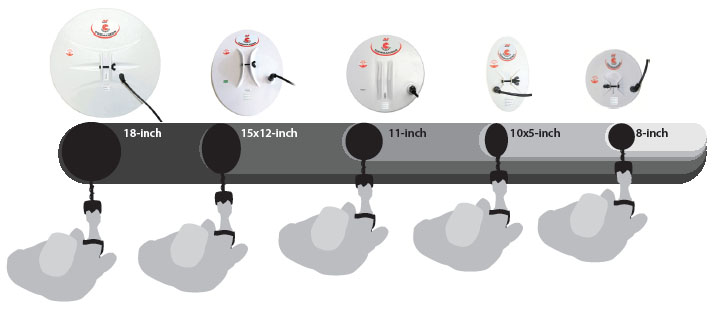 Specification
| | |
| --- | --- |
| Image | |
| Product | GPX 5000 |
| Application | Gold Prospecting & Deep Relic |
| Technology | MPS, DVT & SETA |
| Frequency/Transmission | Bi-Level, Advanced Pulse Induction |
| Coil (standard) | 11" Round Double-D plus 11" Monoloop. |
| Audio Output | 6.35mm (1/4") headphone/speaker jack. |
| Headphones Supplied | Koss 100 ohm headphones. |
| Visual Display | 64 x 128 pixels, transflective with white backlight. |
| Backlight | Yes with adjustable automatic 'time-out'. |
| USB Connectivity | - |
| Memory | Setting changes saved automatically and remain until changed or reset. Factory Presets can be restored on start-up. |
| Depth Indication | - |
| Detect Modes | General, Deep, Hi-Mineral, Patch, Hi-Trash & Pinpoint (all user programmable) |
| Discrimination | Iron Reject: range 1 to 10 & Off (All Metal). |
| Timings | Normal, Sensitive Extra, Enhance, Sharp, Sensitive Smooth, Coin/Relic, Salt/Gold & Fine Gold. |
| Audio tone | Variable Control 1 to 100. |
| Audio Type | Quiet, Normal, Deep & Boost. |
| Ground Balance | Automatic Ground Balance, Fixed & Tracking: Slow, Medium & Fast. Quick-Trak button. |
| Ground Balance Type | General, Specific & Ground Balance Off. |
| Trash Density | - |
| Pinpoint | - |
| Sensitivity Adjust | Rx Gain 1 to 20. |
| Tune / Noise Cancel | Automatic & Manual 0 to 255. |
| Threshold | Adjustable turn control. |
| Target Volume Adjust | Target Volume 1 to 20. Volume Limit 1 to 20. |
| Battery | Lithium-ion rechargeable battery 68Wh with in-built amplifier for speaker use. Approx. 12 Hours use. Supplied with mains and vehicle charger. |
| Low battery alert | Audio alert. |
| Length | 1100mm (43.3") to 1300mm (51.2"). |
| Weight | 2.4kg (5.3lbs) including 11" coil (excluding battery and accessories). Battery weight 780g (1.7lbs). |
| Warranty | 3 years control box & coil. |